'Meant to Be at Kean': Family Puts Down Roots at University
Jan 18, 2022
by Jeanette Rundquist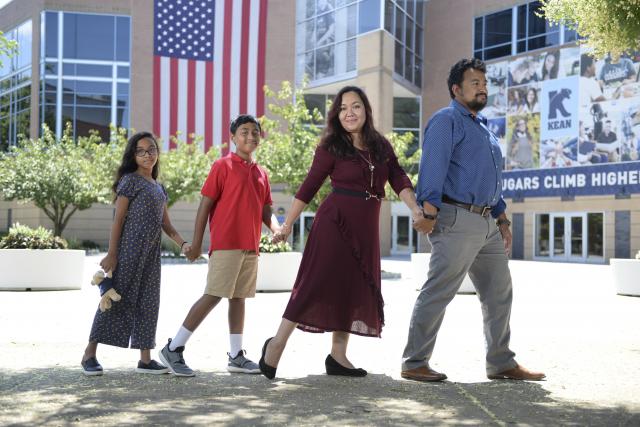 Ilaf Sattar and Solman Ahmed both grew up in Dhaka, the capital city of Bangladesh, but they first crossed paths more than 7,000 miles away at Kean University.
The alumni couple, who met in 2002 and married in 2006, both earned undergraduate and graduate degrees at Kean University. They both work at Kean, and between them, they have five extended family members — a brother, sister-in-law and cousins — who went to Kean. 
"People tell me, 'You've been at Kean so long.' This is a very happy place for me," said Sattar, who earned her bachelor's degree in marketing in 2005 and her MBA in global management in 2016.
The couple's children are already Kean graduates, too. Son Sahmir, 11, and daughter Sahrish, 9, both went to the Kean Child Care Center as preschoolers.
"I was meant to be at Kean," Sattar said.
When Sattar left home for college in the U.S., her parents steered her to either California or New Jersey, where she could live near one of two uncles. She started at Cal State San Marcos, near San Diego, but transferred after a year because she was commuting 50 miles each way by bus. 
Next on the list was New Jersey. Her father helped move her to Kean, and the residence halls became her home for three years. "It's destiny that brought me here," Sattar said.
Ahmed earned his bachelor's degree in computer science in 2004 and his master's in graphic communication in 2013. A year older than Sattar, he chose Kean because a cousin attended the university. He and Sattar met through friends at what is now Miron Student Center. 
"In the atrium we were introduced, and it took off. We hung out in the same group of friends for almost two years," Sattar said. "In his last semester, we realized we had a lot in common."
Theirs was a Kean courtship. Ahmed first asked Sattar out while sitting on a bench near the STEM Building. Their early dates were near campus or places reachable by New Jersey Transit train, since neither had a car. They took Kean-organized student trips to play paintball and even tried skiing.
Both were active with the International Student Association, with Sattar serving on the executive board. "The Kean culture is very welcoming, very diverse. Never did we feel our skin color or race or identity was in question," she said. "One of the biggest things I tell people is, you will never feel you are one in a crowd because there's so much diversity at Kean."
Sattar now works at Nathan Weiss Graduate College, on East Campus, and Ahmed is in the Division of Academic Affairs. On a recent sunny afternoon, the couple, who live in Monmouth Junction, met on the main campus during their lunch break and spent time strolling and reminiscing. Other Kean employees, friends they've made over the years, occasionally waved hello.
"I have spent more than half my life at Kean," Ahmed said. "It's like a second home."
The couple's children enjoy visiting Kean too. The family especially loves attending Kean Homecoming.
"My children look forward to the Fun Fair every year, and we get to run into old friends there," said Sattar, who added that they missed going to the annual event last year because it was canceled due to the pandemic.
 "Kean has been my constant since 2002," she said.