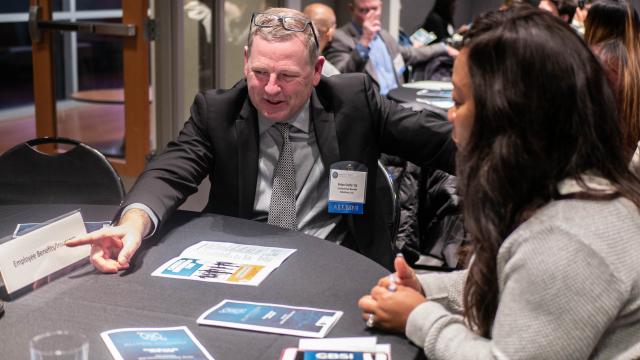 Alumni Benefits
As a Kean alumna/us, you are entitled to a number of benefits and services. The first step is to request a Kean University Alumni Photo ID Card. Alumni cards are provided free of charge and can be obtained by contacting the Office of Alumni Engagement at (908) 737-0599 or alumni@kean.edu.*

*Please note there is a $15.00 fee to replace a lost or stolen card.


Delivery Time for Paper Transcripts
Transcripts for alumni who attended Kean from Fall 1982 to present will be mailed within three working days.
Transcripts for alumni who attended Kean prior to Fall 1982 will be mailed within seven working days.
During peak periods especially at the end or beginning of a term, mailing may be delayed beyond the above working days.
Payment Information
The transcript fee is $10.00 per official copy (the 10.00 fee covers all undergraduate and graduate coursework). You cannot receive a transcript if you have an outstanding obligation.

For more information, click here. 
Premiere Stages
Premiere Stages at Kean, the University's professional theatre company in residence, is committed to serving the cultural needs of northern and central New Jersey through the development and staging of high-quality Equity theatrical premieres and productions, professional development and educational initiatives for the local and campus communities, and support and cultivation of emerging playwrights and theatre artists.
For the 2021/22 season, alumni will receive $5 off each ticket purchased. Please email alumni@kean.edu to receive the exclusive alumni discount code.

For more information on tickets and programming, visit https://premierestagesatkean.com/.
University Library
Alumni have borrowing privileges at the University Library housed in the Nancy Thompson Learning Commons. With a valid alumni card, users are able to borrow books and access the on-site computers. Please review the library's general public access hours prior to visiting. 
Child Care and Development Center
The on-site Child Care Center offers priority enrollment to the children of Kean University students, employees and alumni at a special tuition rate.
For more information about the curriculum, hours and the enrollment timeline, click here.
Kean University Magazine

The Kean alumni magazine features profiles of Kean graduates, stories of achievement by Kean's students, and all of the latest on-campus news. 
Don't miss an issue. Update your contact information by emailing alumni@kean.edu to receive your Kean University Magazine.

Distinguished Alumni Award
The Distinguished Alumni Award recognizes Kean alumni who have made significant contributions to society, and whose accomplishments, affiliations and careers have honored the legacy of excellence at the University.

Athletic Alumni Awards
The Benisch Athletic Hall of Fame honors standout alumni, student-athletes, coaches and administrators who have distinguished themselves and the University through their participation in Kean Athletics.