The Alumni Engagement office is working to strengthen the relationship that Kean's graduates have with one another and the University through opportunities to volunteer, attend events and stay up to date on all that's new and exciting at their alma mater.
Meet the Director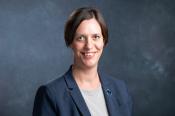 Carol Ann Koert joined the University Relations team in April 2021 as the director of alumni engagement. In this role, she helps connect alumni to the University by providing a wide range of events and volunteer opportunities.
At Kean, Carol Ann's priorities include creating a new young alumni council, educating students about the importance of philanthropy, building better communication channels and providing valuable programming for alumni. In addition, she will collaborate with colleagues across campus to create and support alumni participation at Kean University.
In her 16-year career in higher education, Carol Ann has worked as an alumni relations professional, advancement coordinator and in other roles. Prior to joining the team at Kean, she ran all alumni engagement initiatives for Saint Elizabeth University. She also was the director of alumni events at Seton Hall University where she planned over 100 events a year.
Carol Ann has a Bachelor of Arts degree in political science from York University and a post-graduate certification in corporate communications from Centennial College, both in Toronto, Canada.