Kean Journalism Graduate Lives Long-Sought Dream as TV Reporter — and Wins Emmy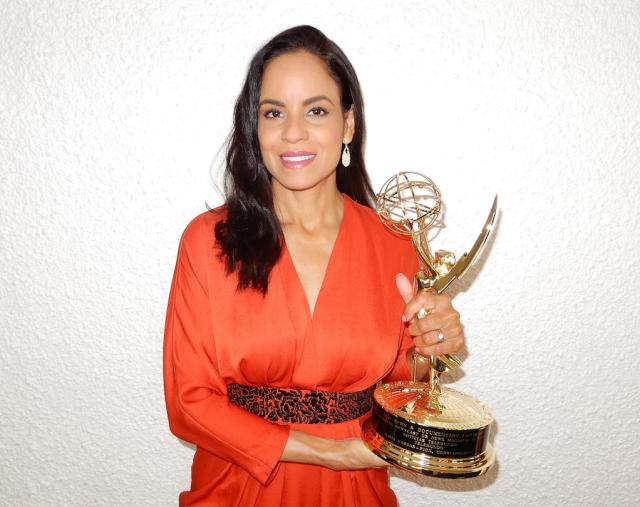 Journalists need grit, and Maria Vargas-Pion '10 demonstrated hers long before she hit the streets of the northeastern U.S. as an on-air television reporter for Telemundo, the Spanish-language television network.
After emigrating from Venezuela to the United States in 1998, Vargas-Pion worked in some factories, a restaurant and as a babysitter, learned English, attended Kean University and built a career in television news because she wanted to help her community.
"Being informed can help you change your life. That's especially true when you are an immigrant and don't know the law, how to get around, or what to do in certain situations," said Vargas-Pion, who immigrated from the Dominican Republic to Venezuela before coming to the United States.
Vargas-Pion was rewarded for her diligence in September 2021 when, as part of the Noticias Telemundo team, she won an Emmy Award for Outstanding Newscast or News Magazine in Spanish. The Emmy recognized broadcasts from 2020 and 2021, a challenging period when Vargas-Pion was the sole reporter covering New York state and its surrounding areas for Telemundo.
"All our stories involved coverage of the COVID-19 pandemic or issues related to the presidential election or the death of George Floyd," she said.
In May 2022, Vargas-Pion also won a Telly Award for her Noticias coverage marking the 20th anniversary of 9/11, which told the story of a paramedic who rescued people at Ground Zero, spent months afterwards searching for survivors and recovering bodies, and now lives with cancer.
While Vargas-Pion initially worked for Noticias on a freelance basis, the quality of her work during the pandemic and beyond led to her becoming a full-time New York correspondent for Hoy Dia, a show Telemundo premiered in February 2021 to expand its morning news coverage.
"I really like that the Hoy Dia format allows me the opportunity every day to work on stories that I wouldn't have been able to cover on Noticias because they are longer," she said. "Sometimes I feel that I need to tell our viewers more, like when I reported a detailed story on a safe drug-injection site and had a chance to look beyond stereotypes about addicts."
Vargas-Pion was a university student interested in journalism when she left Venezuela for the United States due to concerns about government interference with a free press and the safety of reporters. She worked several jobs, married and had a son, so it wasn't until seven years later that Vargas-Pion enrolled at Kean University. Throughout that time, she never lost sight of her dream.
"I never, ever lost hope that I would go back to college and actually study what I really wanted to study," said Vargas-Pion, who started at Kean when her son was 5 and sometimes brought him with her to class.
She graduated with a B.A. in media and film, international broadcast journalism option, with a second major in Spanish.
"The platform I got in my classes and at KUTV really helped me, especially when I got my first job on camera as a one-man-band reporter," said Vargas-Pion, who maintained a 4.0 GPA. "I already knew how to shoot video and use a computer lab with all the tools to edit my own story."
Rosa Paulino, acting director of Kean's Spanish Speaking Program, remembers Vargas-Pion as "a very committed student who always worked hard to produce quality work. She took advantage of every opportunity available, participating in campus activities, travel-learns, study abroad and internships. Her work ethic and dedication helped her to be where she is today."
After graduation, she got her first television job as a freelance production assistant at CNN's Nancy Grace. She also worked at Univision 41 in New York, Spectrum Noticias NY1, and News 12 En Espanol.
In working with Vargas-Pion at Univision 41, fellow reporter Rolman Vergara knew her as someone who always did a thorough job. "Maria is professional, respectful and completely dedicated to her profession," he said.
Since 2009, when she was a student at Kean, Vargas-Pion has given back as a spokesperson for two American Heart Association Programs — Go Red for Women and Go Red Por Tu Corazon. She's also always happy to share advice with students.
"Journalism is a very rewarding career if you are there for the right purpose," she said. "You need to have a passion for helping others and empowering the community."