Kean Grad Programs Creativity into His Math and Computer Curricula for Students with Autism
Aug 25, 2021
By Beth Fand Incollingo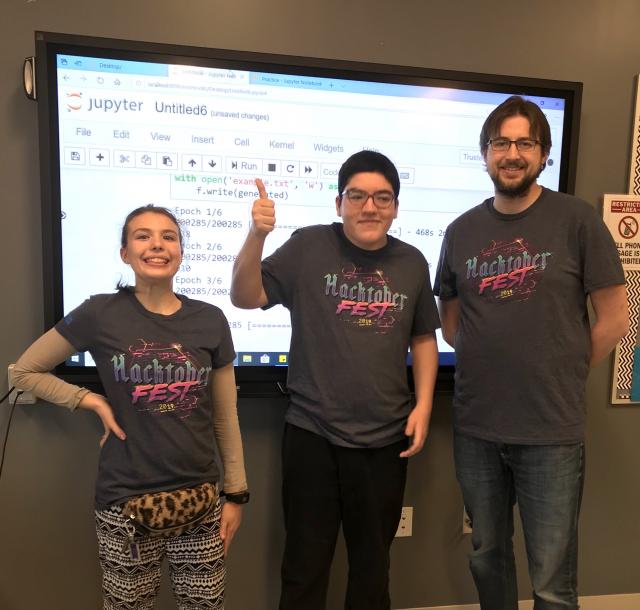 Joseph Ostroman strives to reinvent himself every year. 
"If you stay stagnant, things are going to get very boring," said Ostroman, a math and computer programming teacher at Spectrum360, a West Orange, New Jersey-based nonprofit school for teens and young adults who have autism.
The 2010 Kean University graduate has no problem sticking with that plan, as he's endlessly inspired by the world around him and loves sharing new ideas with his students. Through 3D modeling projects, a stock market club, technology internships and even a self-watering classroom plant, Ostroman looks beyond textbooks to find ways to keep his students engaged.
"The creativity is my favorite part," he said, "and thinking about how math and technology apply to the real world."
He has extra time for that pursuit now that he's programmed a computer to grade all of his students' assignments. "My whole mantra the last couple of years has been, 'Why can't a computer do that?'" he said.
Ostroman, who is married and recently became a father, graduated from Kean's New Jersey Center for Science, Technology and Mathematics with a Master of Arts in curriculum and instruction focused in mathematics teacher education. He started teaching at Spectrum360 the same year and, despite having no background in behavioral science, quickly realized how much he enjoys teaching students who span the autism spectrum. 
"They make me smile every day," he said.
They'd likely say the same thing about him. Ostroman's lessons have included asking students to identify songs by analyzing word clouds he created using a QR code generator. Those who were stumped could scan the puzzles with their phones to hear the songs on YouTube.
For a health and fitness fair, he used a computer the size of a credit card to mimic a Liberty Science Center exhibit, creating a strand of LED bulbs that lit up in sequence to mimic animals' running speeds. Not only did students get to race against the lights, but they calculated how fast the animals ran and figured out how to code changes in their speed.
"Joe incorporates his own passions into his lessons and tries to get his students invested in a similar manner," said Robert Wade, a Spectrum360 math teacher who was mentored by Ostroman. "For instance, he uses his robot to teach students about artificial intelligence and encourages them to enroll in coding competitions like Hacktober Fest."
Although the COVID-19 pandemic temporarily interrupted Ostroman's inaugural coding class, he was able to continue guiding one motivated student, Leo, through an online internship with accounting giant KPMG, which involved applying machine learning to data analytics to help identify potential customers for a small business. The experience will contribute to Leo's readiness to work in data analytics, said Ostroman, who also gave one-on-one instruction to a student interested in 3D modeling.
"All parents everywhere hope that their children will find passionate teachers who will make a huge difference in their kids' lives, the teachers who are remembered forever," Leo's mother, Bridget, said. "Joseph Ostroman is that kind of teacher. He's given a personal investment into thinking about real-world applications that could potentially change and impact Leo's future life in incredibly positive ways."
In working with Leo and his other students, Ostroman has been grateful for the lessons he learned at Kean. One involves how to tell instantly what kind of a learner someone is based on the direction they look while remembering something — up for visual, left or right for auditory, or down for kinesthetic. He also learned to capitalize on teachable moments from a professor who liked to name a topic and ask students to teach it on the spot.
Now, Ostroman is passing along the lessons that will guide his own students through their adult lives. Among the most important, he said, is to let their passion for technology fuel them.
"Once they leave me, they need to keep going with it," he said. "It's up to them to continue."