After Earning MBA from Kean, a Career in Investment Banking
Feb 22, 2022
By Beth Fand Incollingo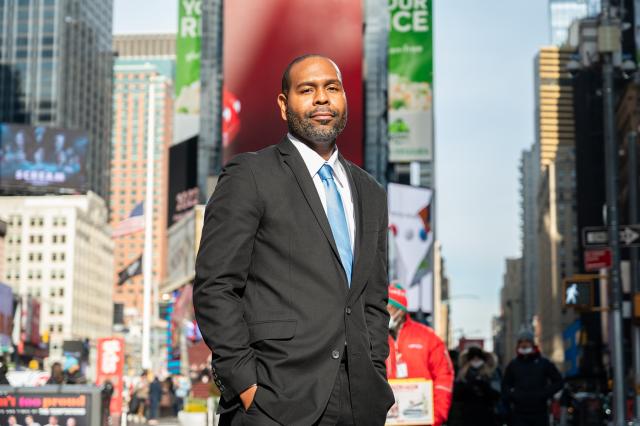 Jerome Beazer has discovered a secret to success in the business world — fulfillment comes when you direct your own career, rather than letting it direct you.
Twice during his two-decade career in mortgage-related finance, Beazer stepped in to chart a new course. The first came when he enrolled as a graduate student at Kean University and received his Global MBA in 2012. 
His second course adjustment occurred a few years later while working at J.P. Morgan in Woodcliff Lake as a forensic underwriter on residential mortgages. Beazer spoke up for himself and landed a new job at the investment bank that he had wanted to join since graduating college in 1997. 
"There was a senior vice president in my group, and I went up to him and said, 'I have my MBA, I have a lot of experience, and I would like to see what else is available,'" Beazer recalls. "He didn't have anything available in his group but referred me to the investment bank, where I started in 2014 as an associate in the residential mortgage-backed securities group. I've been there ever since and have received promotions all the way from associate to vice president and now executive director."
As an executive director in New York, Beazer supervises vice presidents, associates and analysts involved in purchasing mortgages, bundling them into securities or bonds, and selling them to investors.
"The role took all my underwriting experience and allowed me to transfer it over to the capital-market side of the business," he said. "It's been a great transition."
James P. Pettit, Beazer's manager and also an executive director, remembers looking for a job candidate who was an organized problem solver and a concise communicator with a passion for learning.
"Jerome displays all of these skills to bolster our team, as well as a great combination of collaboration and leadership as situations may warrant," Pettit said. "In addition, Jerome brings determination, drive and an unwavering positivity."
Beazer gained a lot, he says, from the global nature of Kean's program.
"We were focused on learning about different cultures," he said. "I took Spanish, and it helped me to be conversational. But even more amazing was that there were students from all over the world in my classroom, and I loved having that interaction with people from Egypt, China, Europe, the Caribbean and Africa."
It was one of those students who inspired Beazer's interest in wine. After hearing the student's presentation on wines of the world and their production, Beazer read up on the topic, took courses, learned to make wine, and even ran a small business that conducted tastings.
Just as life-changing was the experience of traveling to Austria, the Czech Republic and Germany through the MBA program to observe businesses, cultural traditions and landmarks.
"Kean taught me to make sure I research and understand other cultures before I travel internationally, which I found helpful when I took trips to Africa and the Bahamas," Beazer said. 
Grateful for those experiences, Beazer has stayed active at Kean, volunteering since 2014 as a member of the Kean Alumni Association Board. Outside the University, he also devotes free time to Black Men Run, a group that promotes health and brotherhood.
As someone deeply familiar with what Kean's College of Business and Public Management has to offer, Beazer has high hopes that the program's current students will take advantage of every opportunity extended to them.
"Learn as much as you can and study hard," he advised. "Also, be aware of the markets — watch CNBC and read the Wall Street Journal and Forbes. Finally, network with the companies that visit Kean to interview students and stay close with the career placement folks on campus."