Alumni Association President's Message
Welcome Alumni!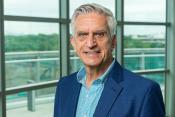 In April 1855, Newark Normal School was created. The first class consisted of 85 women who were training to be teachers in the Newark school system. Two years later, in 1857, they graduated and became the first alumni of Kean University.

Today, there are over 100,000 active Kean University alumni located in all 50 states and in dozens of countries around the world. Our proud heritage in education continues, as Kean still graduates more teachers than any other school in the state. 
Kean, New Jersey's third-largest public university, is one of the most diverse universities in the nation. The University's primary mission is to provide a world-class college education, while maintaining affordability and accessibility. 
As alumni, we have the responsibility to ensure that the value of a Kean degree remains strong for today's students and future generations of Kean students. You can help by staying involved. I urge you to return to campus and speak to student groups to provide career insight; mentor a student; attend a sporting event and cheer for our student-athletes; enjoy a concert or a play in one of Kean's many theaters; or use our library or gyms. Through the generosity of our alumni, we can help Kean maintain all of its wonderful programs, increase the number and amount in scholarships offered to students, and ensure that Kean remains a world-class university.

Alumni working together, more than 100,000 strong, can make a difference in the lives of students today who are destined to be the leaders of tomorrow.
Edward A. Esposito '69 '72 MA
Alumni Association President